EC55C excavator attachment breaker SOOSAN hydraulic breaker model SB40 silence type breaker for chisel 68mm
BRAND
MODEL
KRUPP
HM300/301/305,HM550/560CS/V,HM710/720CS/V,HM950/960CS/V,HM1000V,HM1300/1500CS/V
RAMMER
S-23/D-30,S-26/D-50,S-54/D-60,S-56/D-70,S-83/D-110,S-84,S-86
N.P.K
H-1XA,H-10XB/10XE,H-12X,H-16X,E-210
INDECO
MES121/150,MES180/181/200,MES300/301/350/351,MES451/521/550/HB5,MES601/621/650,
HB8,MES1200/HB12,MES1500/HB19,MES1750/1800,MES2000/HB27,MES2500,MES3000,MES3500
MES4000
ATLAS COPCO
TEX250H1,TEX400H/HS
MONTABERT
BRH40,BRH75/76/90/91,BRH125,BRH250/270,BRH501/570,BRH620,BRH625/900,BRH750,BRH1100
BRP30,BRP45/50/M50,BRP60/70/M60/M70,BRP85/100/95/M85,BRP130/140/150/M130
BRV32/V1200,BRV43,BRV45,BRV52,BRV53,BRV55,BRV1600
FURUKAWA
HB5G,HB10G,HB20G,HB30G,F22,F35,F37,F45
TOKU
TNB-2E/3M,TNB-4E/5M,TNB-5E/6E,TNB-7E/8E/10E,TNB-14E/16E,TNB150/151
TOYO
THBB1600,THBB1401
SOOSAN
SB-40,SB-43,SB-45,SB-50,SB-81,SB-81N,SB-100,SB-121,SB-131,SB-151
GENERAL BREAKER
GB2T,GB3T,GB5T,GB8T,GB11T,GB8AT,GB220E
HANWOO
RHB305,RHB313,RHB321,RHB322/325/323,RHB340
DAEMO
DMB S500V/DMB50,DMB S1800V/DMB18O0,DMB S2200-11/DMB210,DMB S3600/DMB36
KWANGLIM
SG350,SG400,SG800,SG1800,SG2100,SG2800
GINGTIAN
GT80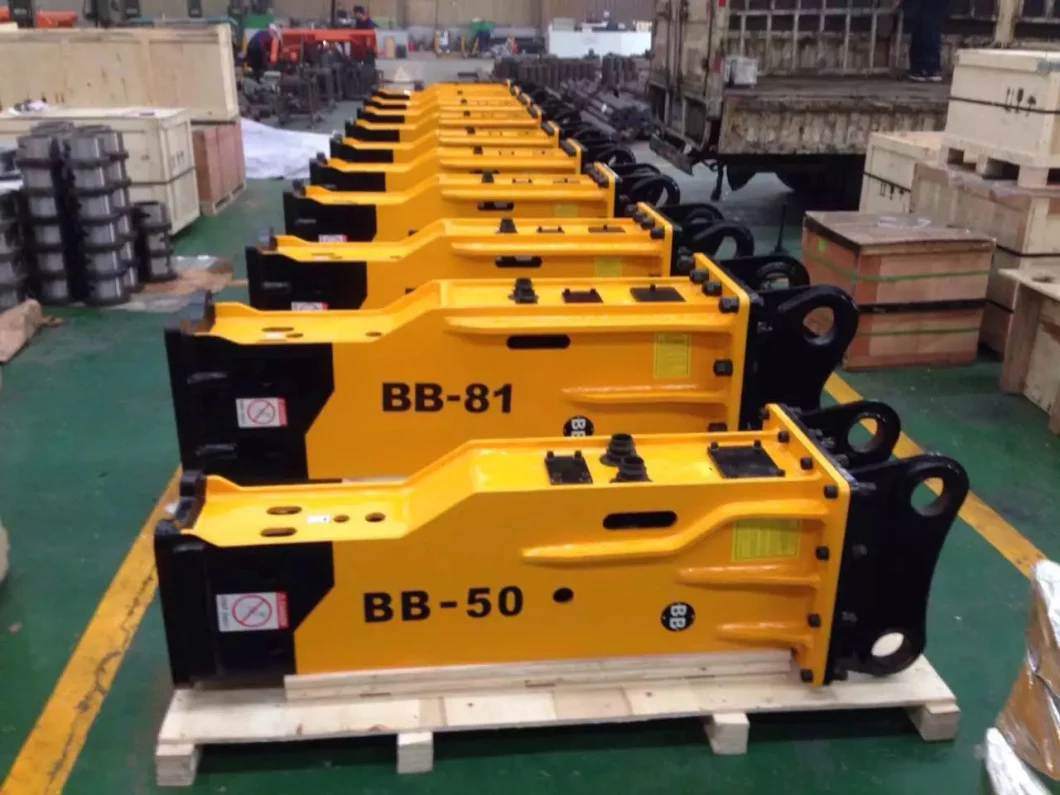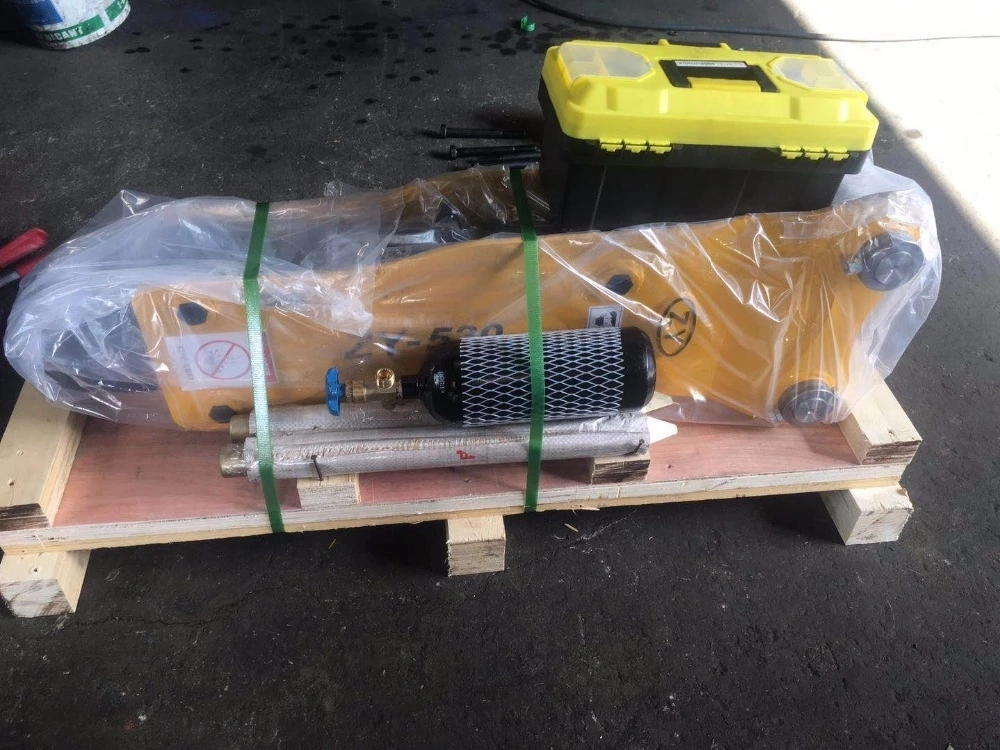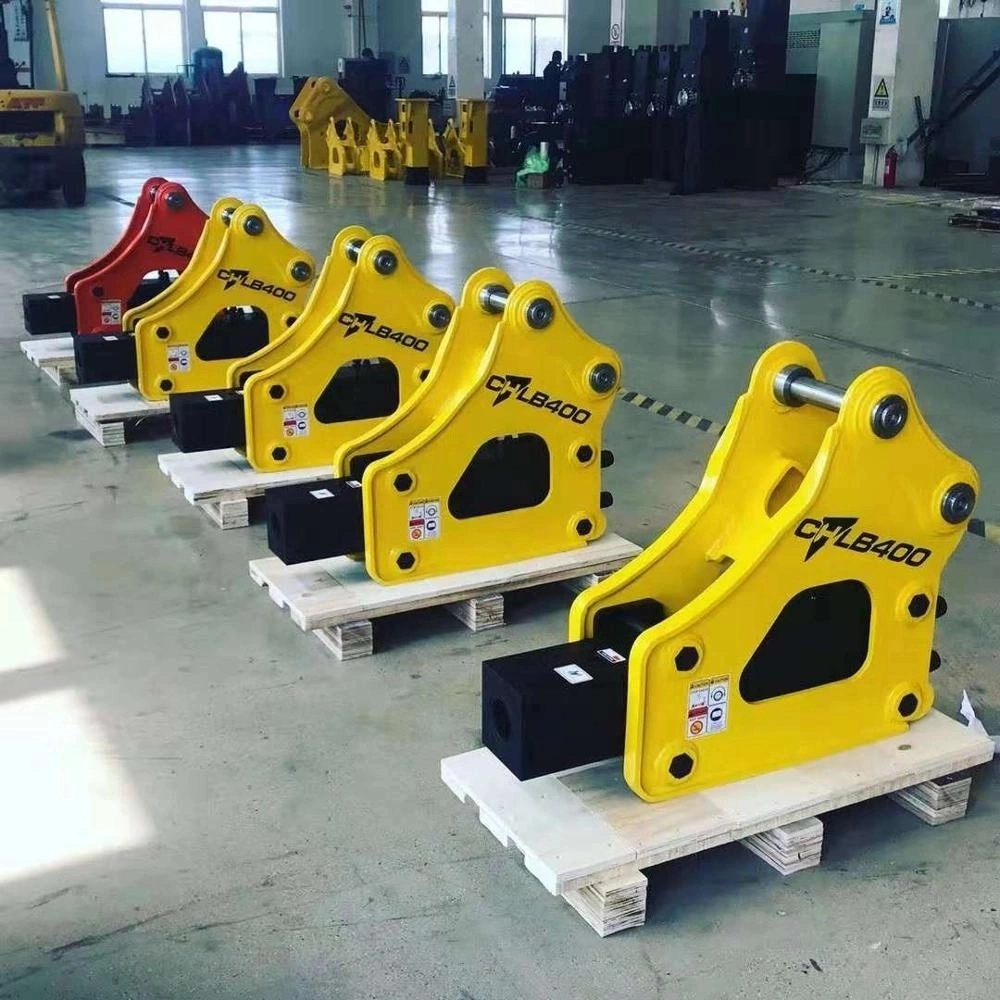 Furukawa Hb30g Hydraulic Hard Rock Breaker for Excavator
Mining:Mining,second-time breaking;
Metallurgy:Clearing slag,Demolition of furnace and foundation;
Road:Repairing,Breaking,Foundation work;
Railway:Tunneling,Demolition of bridge;
Construction:Demolition of building and reinforced concrete;
Ship repairing:Clearing clam and rust from the hull;
others:Breaking Frozen mud.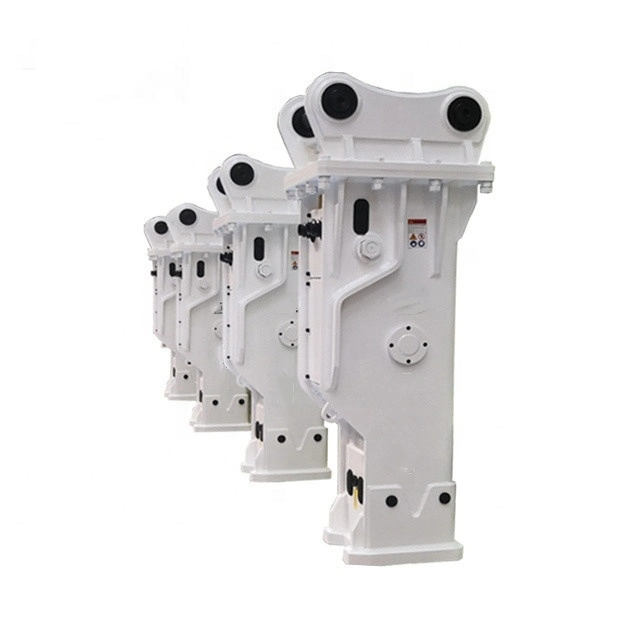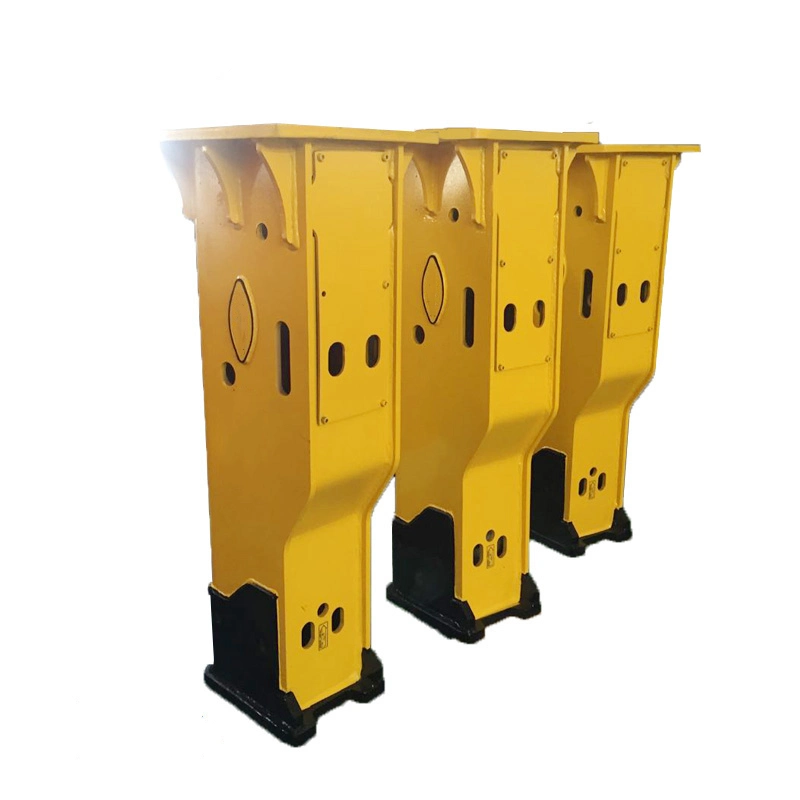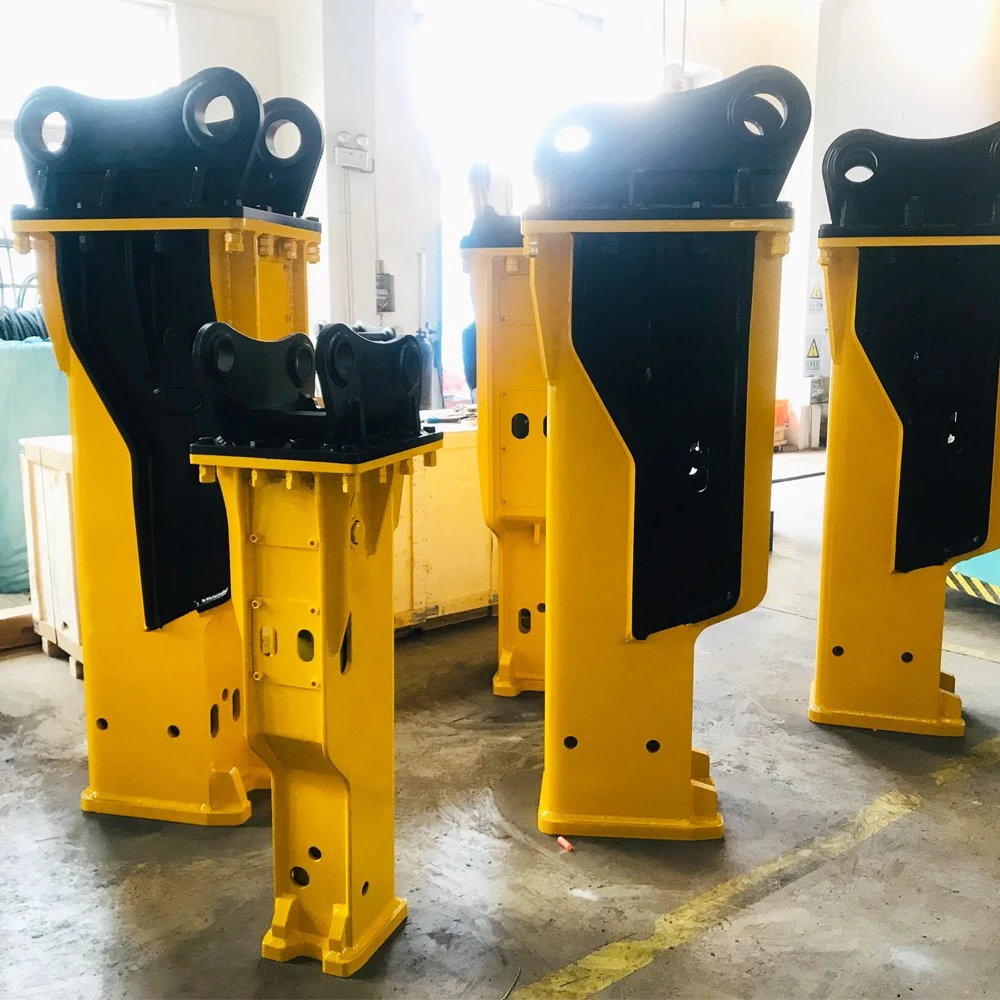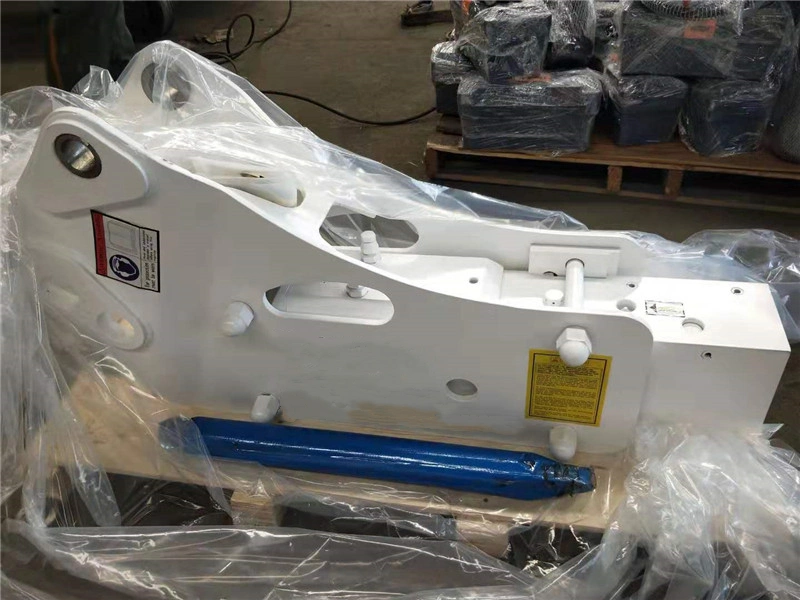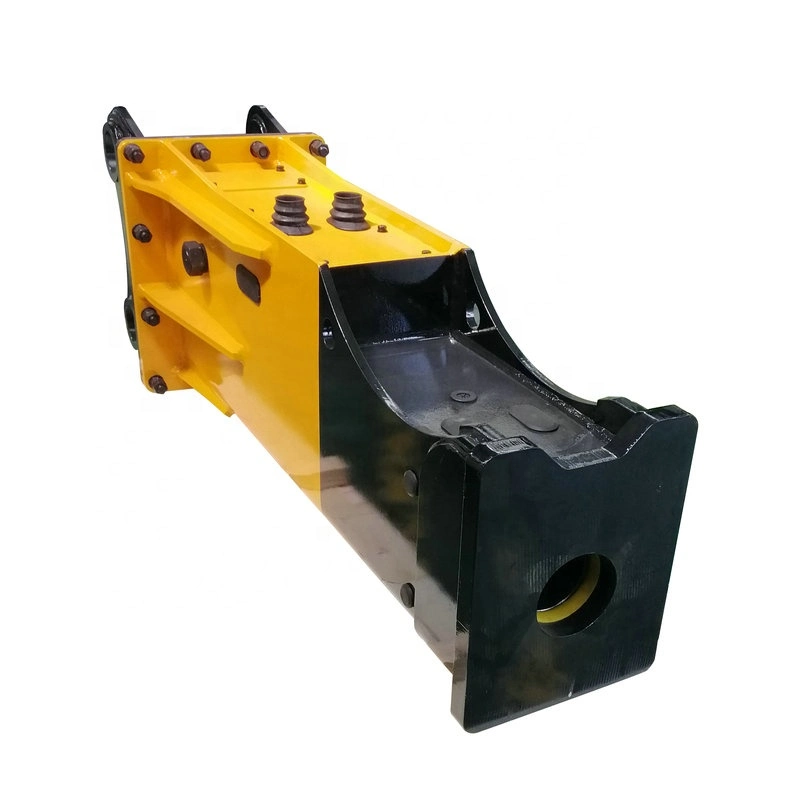 Standard Configurations:

1 Chisel * 2pcs;
2 Hydraulic Oil Hose * 2pcs;
3 Nitrogen Charging Kit With Pressure Gauge * 1 Set;
4 Nitrogen Bottle * 1pc ;
5 Tool Box With Necessary Maintenance Tools * 1 Set ;
6 User Manual * 1 pc.


Features of our hydraulic breakers:
1. New Mobil Dragon series became lighter, stronger and more powerful than ever.
2. Enlarged the diameter of T/Bolt improved its durability.
3. Switched box housing to bending desigh for more durability.
4. Redesigned chisel pin has improved durability.
5. Enlarged chisel's diameter improved more powerful impact.
6. High energy and impact frequency(high performance).
7. High-performance optimized hydraulic unit.
8. Low maintenance, less down, long using life.

Advantages:
1.Suitable for all models of excavator,skid steer loader and backhoe loader.
2.We will make or design hydraulic breakers as customer requests.
3.Because we are a manufacture and trading company ,the highest quality, competitive price and a perfect after-sales service should be provided to our customers.
4 High Strength and wear resistance steel plate adopted.
5. First-class quality: Korean technology used to guarantee the quality.

Package:

1. Inner is stretch film;
2. Outside is export wooden case;
3. As per customer's request.

Delivery:

1: Delivery Time : Usually 3-7days (1-5 sets) after full down payment ;
2: We can arrange ocean or air transportation according to your request .