Hydraulic Rock Breaker, Rock breaker, Excavator hammer, Side type breaker, Top type breaker, Box type breaker for excavator
JSB series breakers are compatible with various brand of excavators including: DOOSAN
,
KOMATSU
,
CAT
,
SNAY
,
HYUNDAI R
,
CAT PALLET
,
VOLVO
,
KOBELCO
,
KATO
,
KUBOTA
,
JCB
,
CASE
,
GEHL
,
Liebherr etc.
Our hydraulic breaker (hydraulic hammer) are applicable to a wide rang of weight class of excavators which from1.2 to100 ton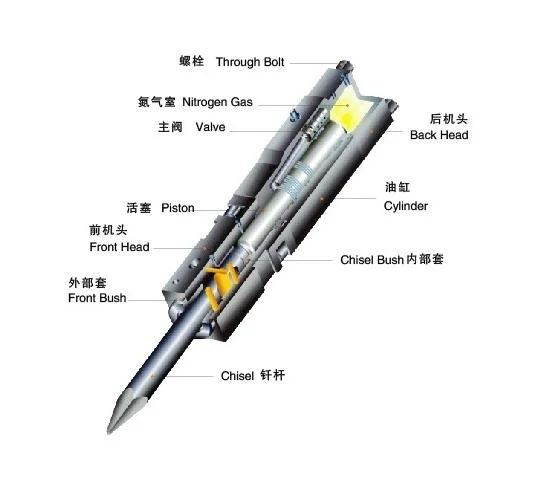 Features:
a. Incorporate much leading edge technology in hydraulic rock breaker. (Lower oil consumption
,
leading heat treatment
,
lower noise
,
long lifespan etc)
b. Suitable with a wide range of excavator.
c. versatile application including rock broken
,
paving road
,
building demolition etc.
d.Top type breaker is applied to special operation that in large elevation angle.
e. Box type breaker namely silent breaker, which is sued in special project that noise is limited.
f one-stop service.
g easy use and easy maintenance.


We have BOX type breaker TOP type breaker SIDE type breaker


The box type (silent type)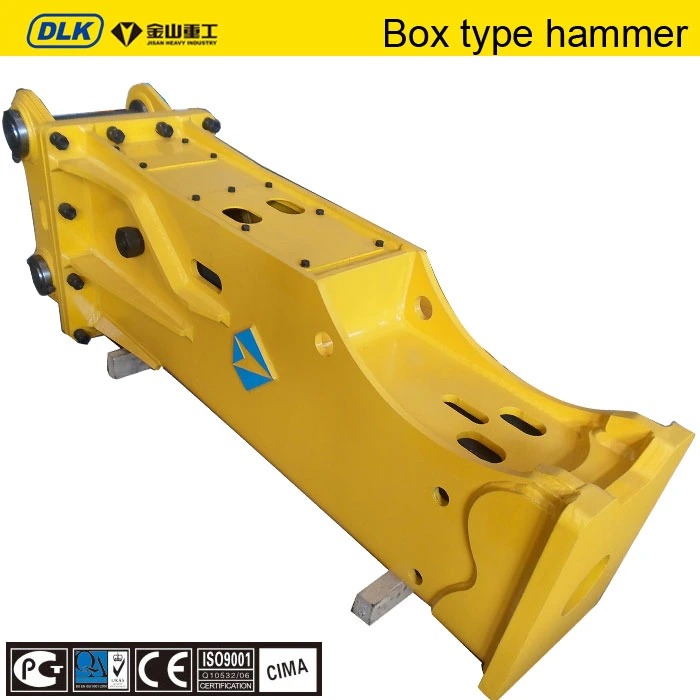 The top type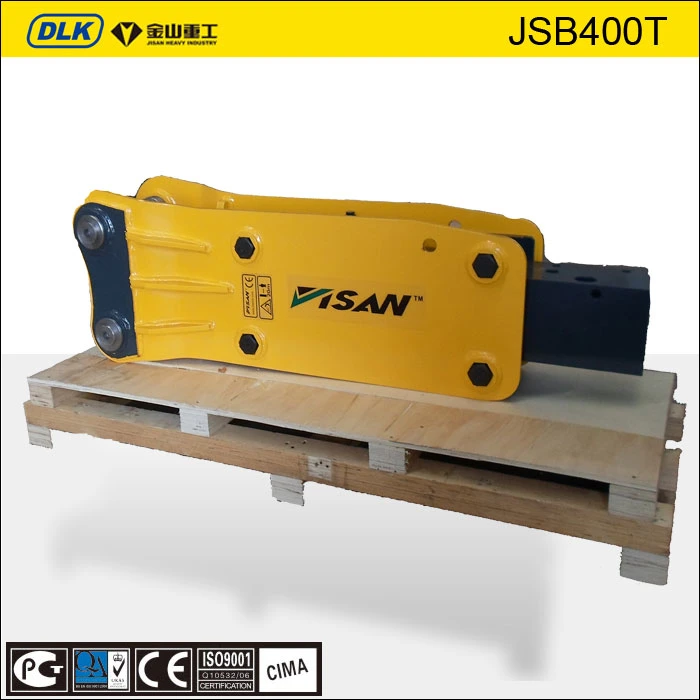 Please contact me freely for further information.
The specification show you as follows for your reference.
THE SPECIFICATIONS OF SIDE TYPE BREAKER
Item\Model
Unit
JSB100S
JSB200S
JSB400S
JSB400S
JSB600S
JSB800S
JSB900S
Suitable Excavator
ton
0.8-2.0
1.2-3.0
2.0-40
3.0-5.5
4.0-7.0
7.0-14.0
11.0-16.0
Chisel Diameter
mm
40
45
53
68/70
75
85
100
Total Weight
kg
70
80
165
254
264
486
853
Overall Length
mm
920
1100
1190
1347
1528
1920
2260
Operating Pressure
kg/cm 2
90-120
90-120
90-120
110-140
110-160
120-170
150-170
Required Oil Flow
L/min
15-25
15-25
25-50
25-45
30-45
45-85
80-120
Impact rate
bpm
800-1400
700-1200
600-1100
500-900
500-800
400-700
400-700
Hose Diameter
inch
1/2
1/2
1/2
1/2
1/2
3/4
3/4
THE SPECIFICATIONS OF SIDE TYPE BREAKER
Item\Model
Unit
JSB1200S
JSB1600S
JSB1900S
JSB2800S
JSB3500S
JSB4500S
JSB5000S
Suitable Excavator
ton
15-18
19-26
19-26
27-38
28-40
36-45
40-55
Chisel Diameter
mm
120
1350
140
150
155
165
175
Total Weight
kg
1300
1679
1898
2455
2650
3753
3910
Overall Length
mm
2530
2695
2810
2895
3152
3310
3400
Operating Pressure
kg/cm 2
150-170
160-180
160-180
160-180
160-180
160-180
160-180
Required Oil Flow
L/min
90-120
120-160
130-170
150-190
170-220
200-300
210-290
Impact rate
bpm
400-700
400-700
400-600
350-500
250-400
250-350
200-350
Hose Diameter
inch
1
1
1
1
1 . 25
1 . 25
1 . 25