Excavators Atttachment open Type Hydraulic Breaker/Hydraulic Hammer/Hydraulic Breaking Hammer
Mining:Mining,second-time breaking
Metallurgy:Clearing slag,Demolition of furnace and foundation
Road:Repairing,Breaking,Foundation work
Railway:Tunneling,Demolition of bridge
Construction:Demolition of building and reinforced concrete
Ship repairing:Clearing clam and rust from the hull
others:Breaking Frozen mud
Features of our hydraulic breakers:
1. New YLB series became lighter, stronger and more powerful than ever.
2. Enlarged the diameter of T/Bolt improved its durability.
3. Switched box housing to bending desigh for more durability.
4. Redesigned chisel pin has improved durability.
5. Enlarged chisel's diameter improved more powerful impact.
6. High energy and impact frequency(high performance).
7. High-performance optimized hydraulic unit.
8. Low maintenance, less down, long using life.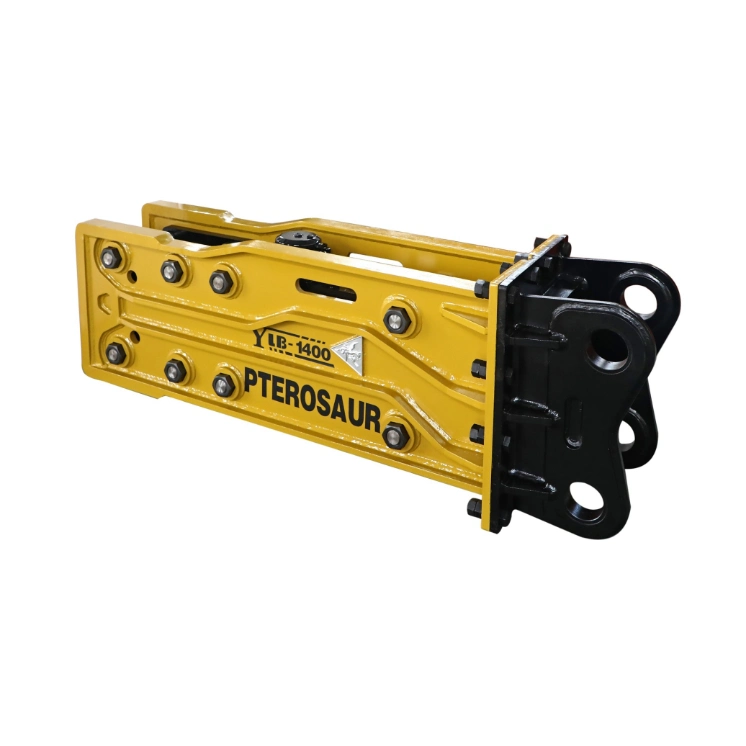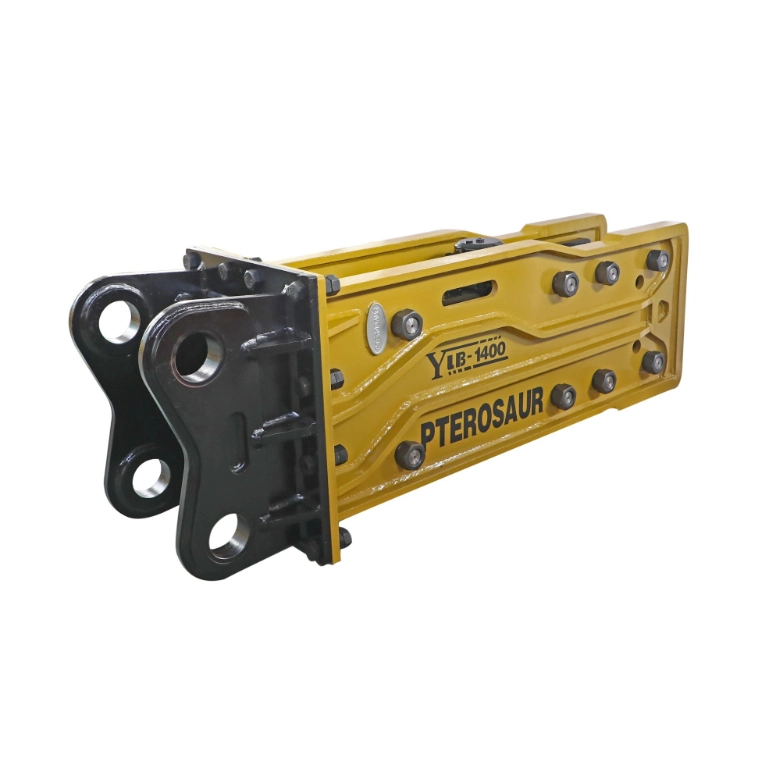 | | | |
| --- | --- | --- |
| Specification | Unit | YLB1400 |
| Height | mm | 2510 |
| Weight | kg | 1825 |
| Required Oil Flow | L/min | 130-170 |
| Working Pressure | kg/cm2 | 160-180 |
| Impact Rate | bpm | 350-500 |
| Chisel Diameter | mm | 140 |
| Hose Diameter | inch | 1 |
| Carrier Weight | ton | 20-26 |
| Valve Ass'y Position | / | Internal |

Warranty period:
16 months:Cylinder body, piston, main valve.
12 months: Front head, back head.
6 months: Inner and outer bushing, bracket.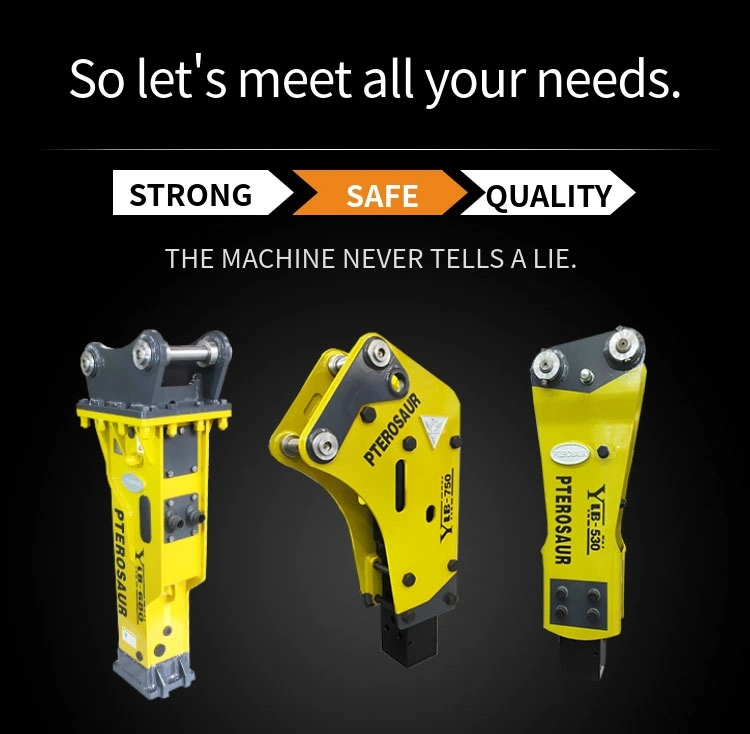 Company profile:
Yantai Baicai Machinery Co., Ltd was estabilshed in 2004, our factory Mainly produces Soosan System hydraulic breakers, Furukawa system hydraulic breakers and spare parts in China. Supplying kinds of Cylinder Assy's to home and abroad.
Specializing in R&D Heavy-duty hydraulic breakers, we already successfully developed 210mm and 230mm heavy duty breakers in 2012. We choose material strictly and learn advance technology from Korea every 3 months also build a professional after-sale service team.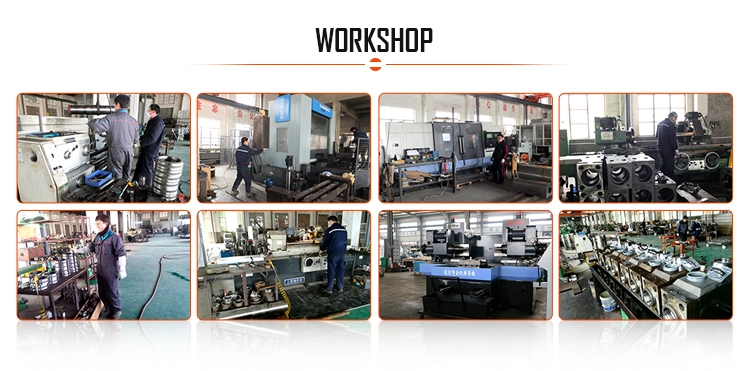 Export standard parts:
Two chisels,two hoses,one set of Nitrogen Charging kit, Nitrogen bottle and pressure gauge, one tool box with necessary maintenance tools and operation manuals as well.

Spare parts
We provide various types of accessories for breaker, each part is carefully quality controlled. When clients need to update or repair hammer, insure that easy and accurate to install, all the spare parts are higher cost performance, help you more competitive in the market.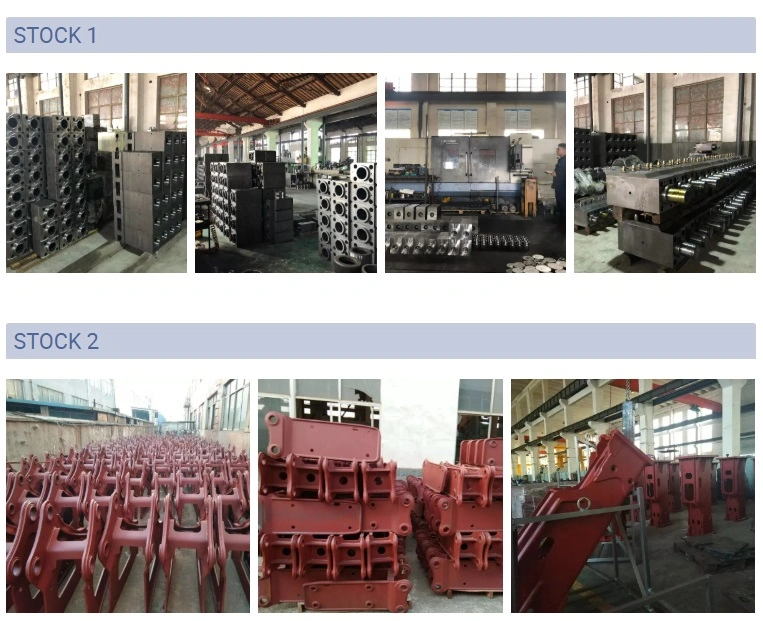 Exhibition show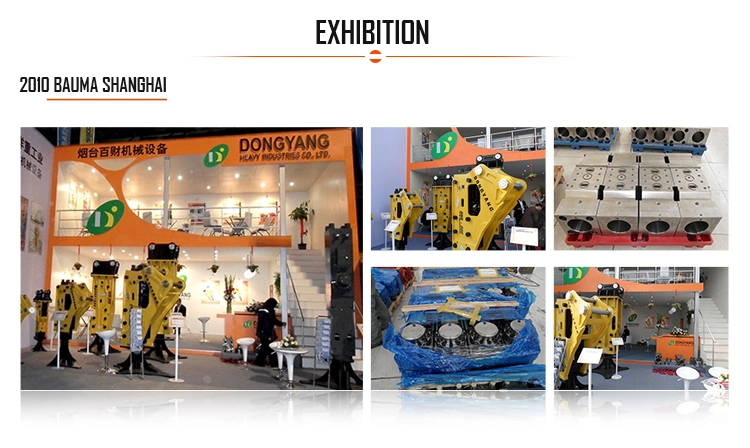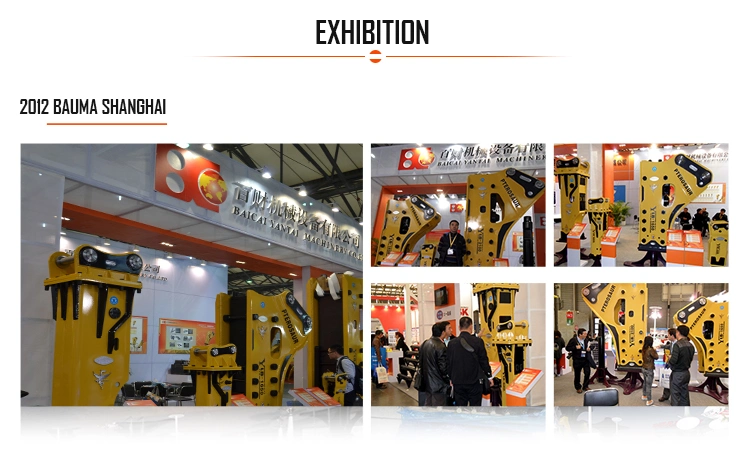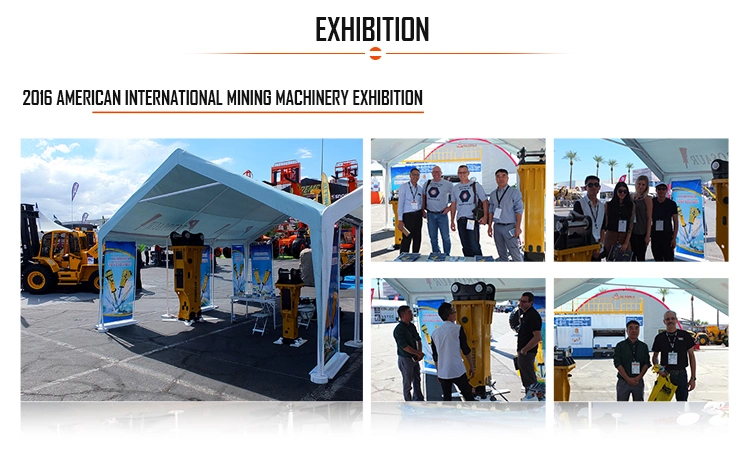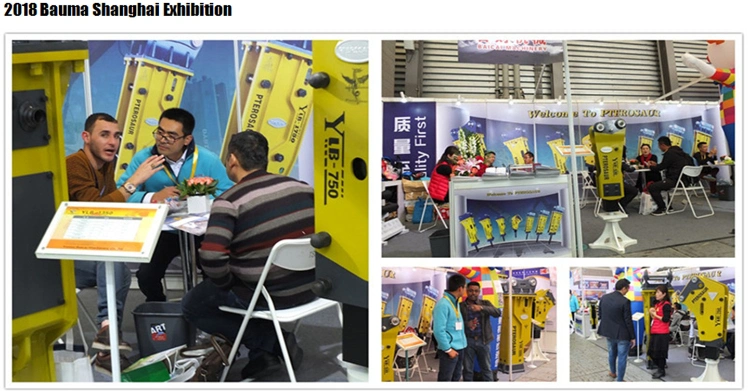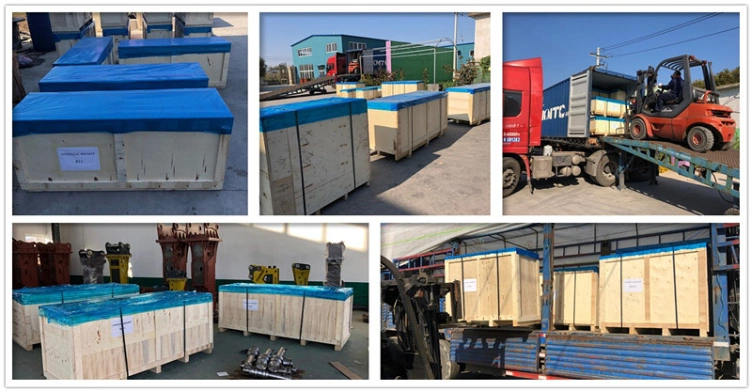 Advantage
1.Suitable for all models of excavator,skid steer loader and backhoe loader.
2.We will make or design hydraulic breakers as customer requests.
3.Because we are a manufacture and trading company ,the highest quality, competitive price and a perfect after-sales service should be provided to our customers.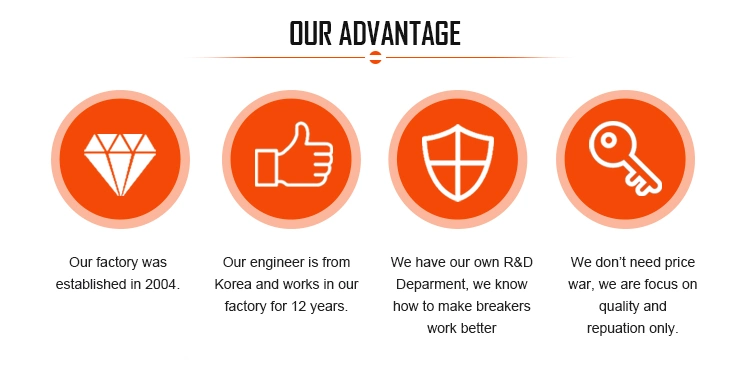 FAQ1. Are you a manufacturer or a trading company?
We are a real manufacturer, yantai baicai machinery co.,ltd was established in 2004

2. Can you produce the breakers according to customers' design?
Yes, OEM / ODM service available. We are professional manufacturer for 15 years in China.

3. What's the MOQ and payment terms?
MOQ is 1 set. Payment via T/T, L/C, Western Union are accepted, other terms can be negotiated.

4. How about the delivery time?
7-10 working days against the order quantity

5. About After-sale Service
14 months warranty for hydraulic breakers against the bill of lading date. 24 hour prompt after-sales service to meet your demands.

6. How do you test the breaker before delivery?
Every hydraulic breaker will do impact test before sale .

7.Which countries do you supply your hydraulic breakers to?
Our hydraulic breakers are sold to more than 30 countries in the world including America, Europe Australia, southeast Asia and Africa.

8.Can I order first time with my own brand?
Yes, we supply OEM service.You can send us your logo or brand name,we will manufacture it.

9.There are several low priced hammers on the market offering long warranties. Why is this and can you offer me such a hammer?
Yes, we do offer such hammers also. The long warranties are mainly an eye-catching sales gimmick. The extended warranty usually covers only those parts that generally do not fail for many years anyway. The cheaper, not so good quality hammers tend to offer these gimmick warranties. As well as low-value limited warranties, many of the cheaper brands exaggerate the ft lbs class power of their hammers. As a general rule with many things, if the price is cheap so is the quality!

10. It's all rather confusing. What hammer do I need? What energy class do I require?
Tell us all about your carrier, typical job application, expected hours of use per year and your budget and we will recommend and narrow down various brands and options for you to choose from.
11. When you quote me for a hammer what does this usually include?
we will often quote you a package price that includes: hydraulic hammer, two new tool bit, two hoses,mounting brackets, pin and bush kits, nitrogen bottle, seal kits, charging kit. We will clarify everything clearly at the point of sale. There are no hidden extras.
12. I bought a hammer from a dealer who sells all types of earth moving equipment and now I am not getting any help or support. What can I do?
This is a common problem. If you are not getting the support you need because your dealer's main business is not hammers or perhaps he does not know the answers to your questions, please feel free to call us. We cannot guarantee that we can help you, but if we can, we will assist you in anyway possible. We don't care where you bought your hammer. If you are stuck and need help, just call us. You don't have to buy anything from us to get help from us. If we can help we will.

13. I have a hammer I bought used elsewhere. I am not sure what brand it is? I have problems with it, what can I do? How do I get parts for it? Can you help me?
Yes, give us a call and give us as much info as you can. We can't promise a positive result everytime but we will do our best to identify your hammer for you. Please email us pictures of your hammer, along with any numbers stamped on it. This will assist us in identifying your hammer correctly.




Maggie


baicaijixie.en.made-in-china.com