Excavator Attachments Box/Top/Side Type Hydraulic Breaker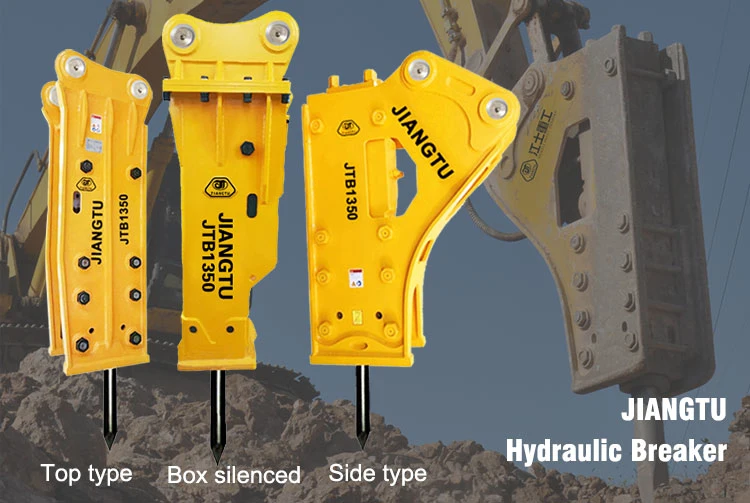 As one of the leading Hydraulic Breaker suppliers in China, JIANGTU has a full range of Hydraulic Breakers for excavator from 0.8-60 tonne.They are suitable for all kinds of brands and models of excavators.

JIANGTU Hydraulic Breaker has 3 main types:
Click Below Words To Select Different type
> Versatile application including rock broken, paving road, building demolition etc.
> Low noise, saving energy and protecting environment.
> Applied to special operation that in large elevation angle
You can choose according to your own needs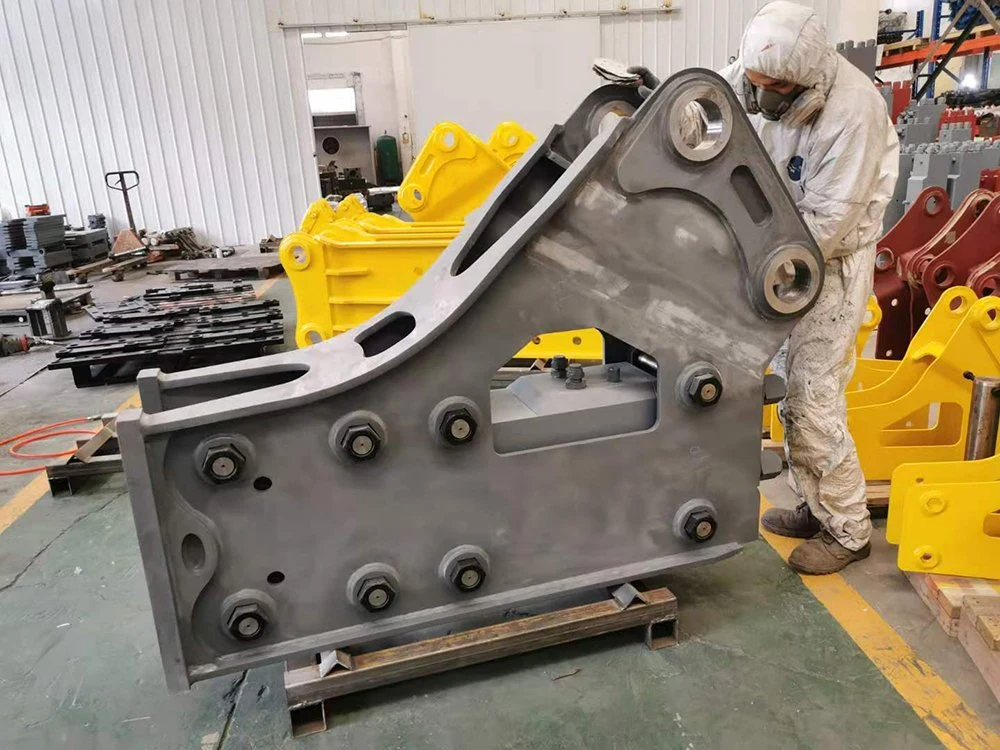 SIDE TYPE: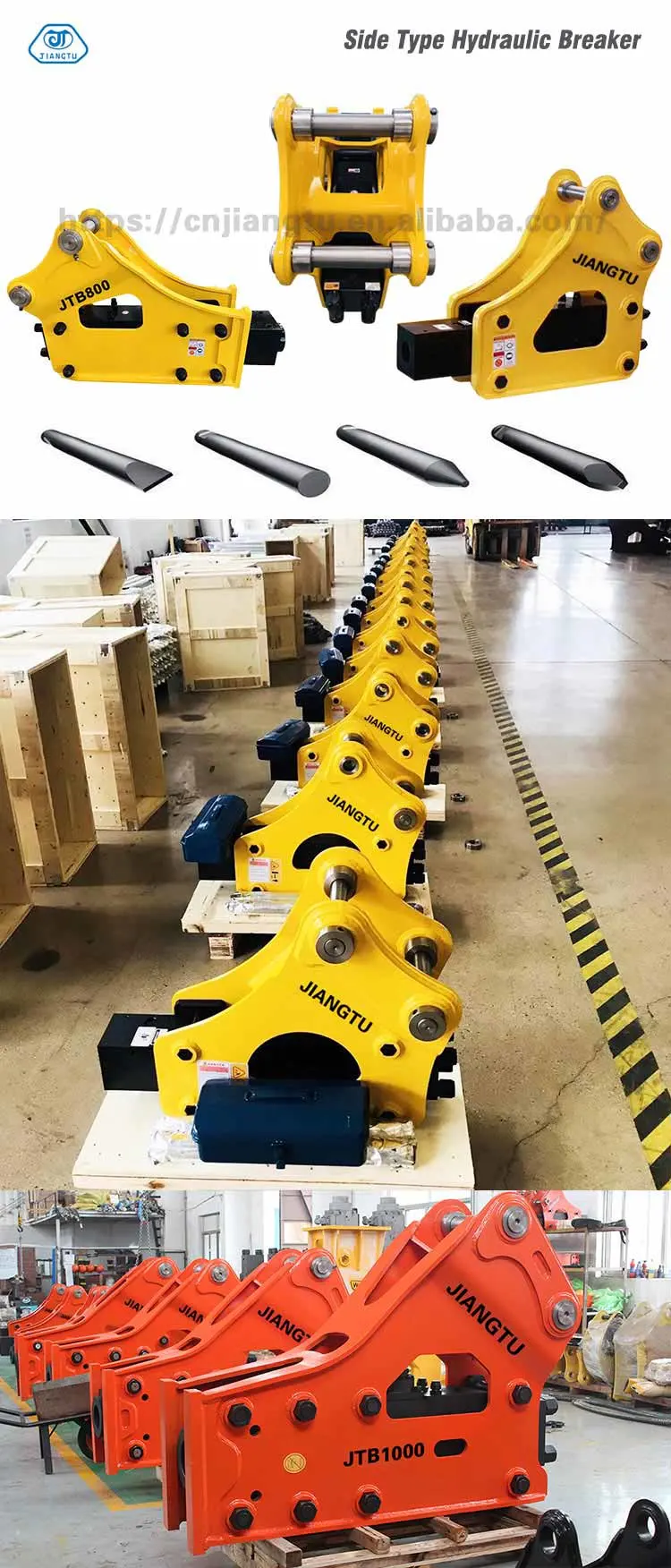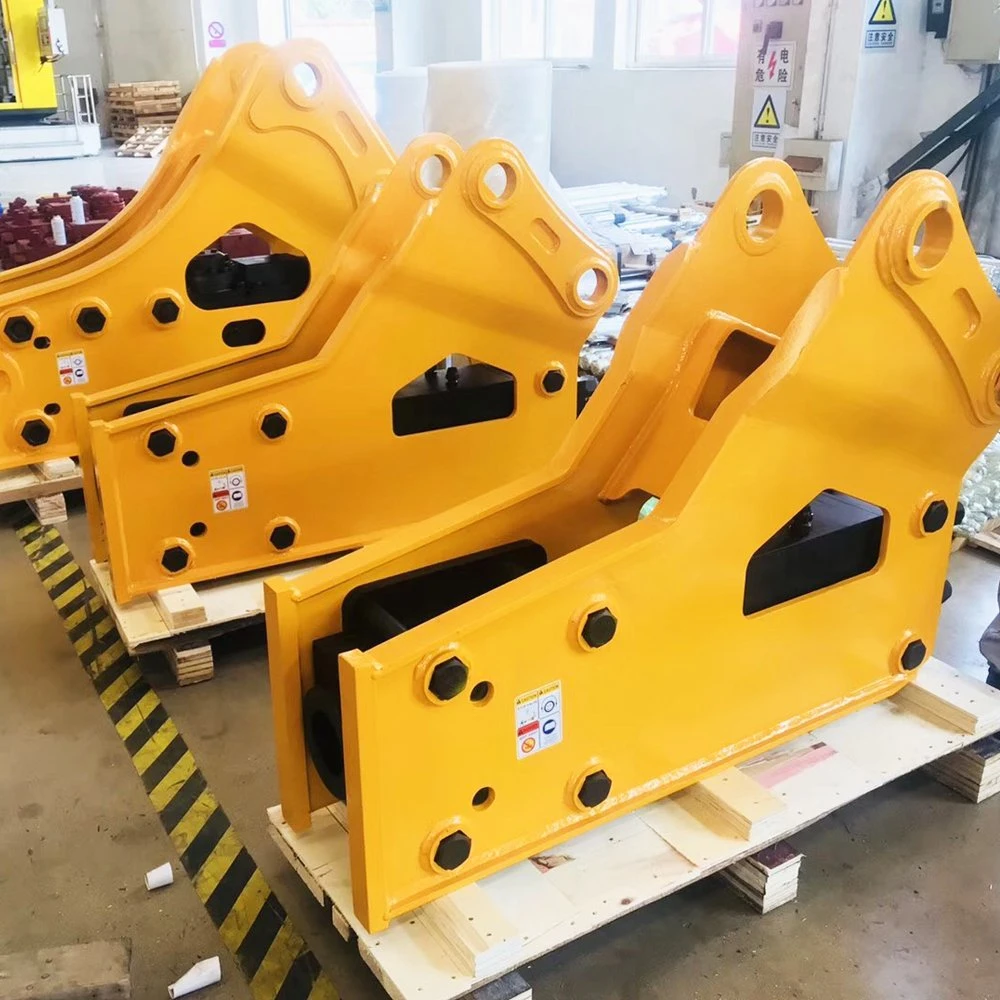 BOX TYPE: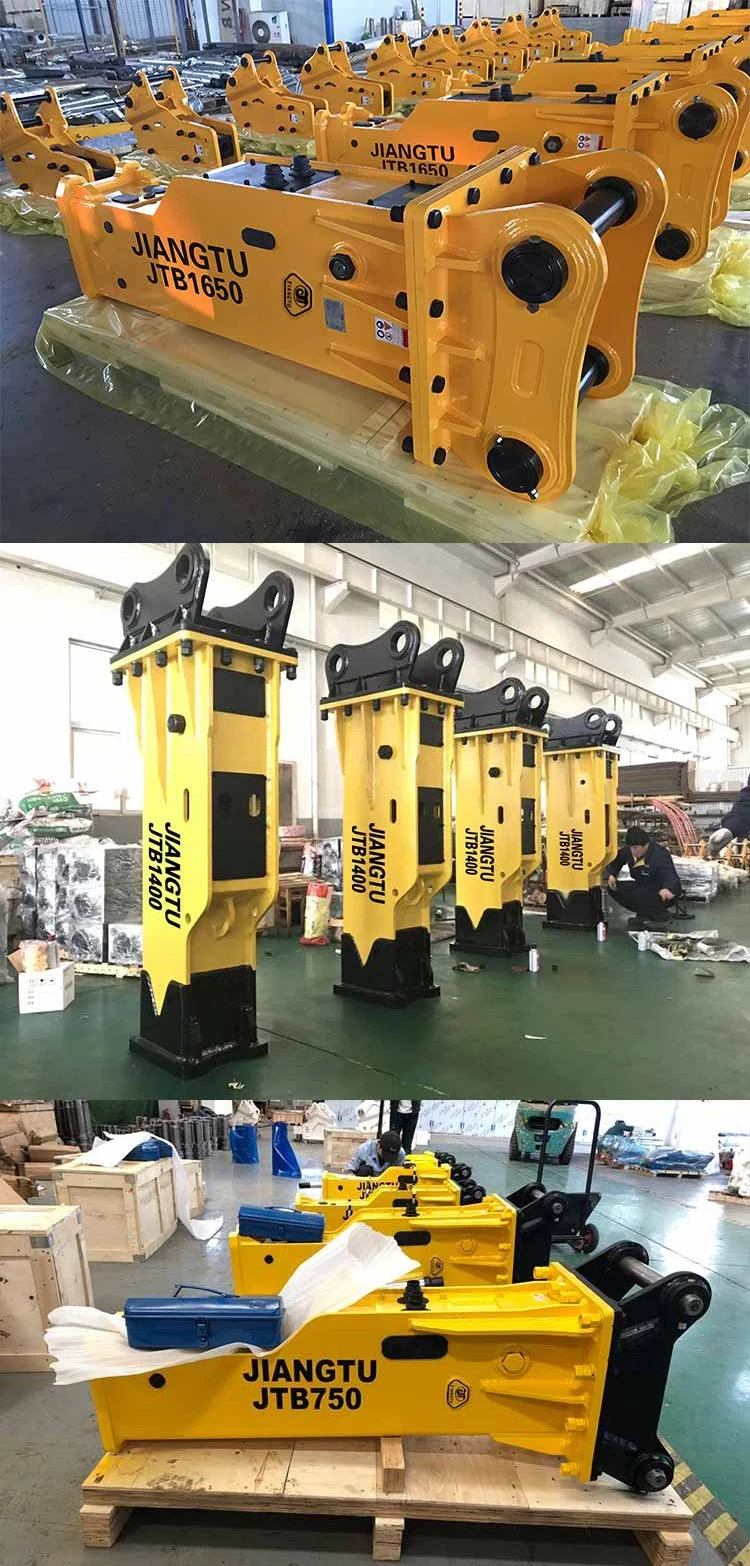 TOP TYPE: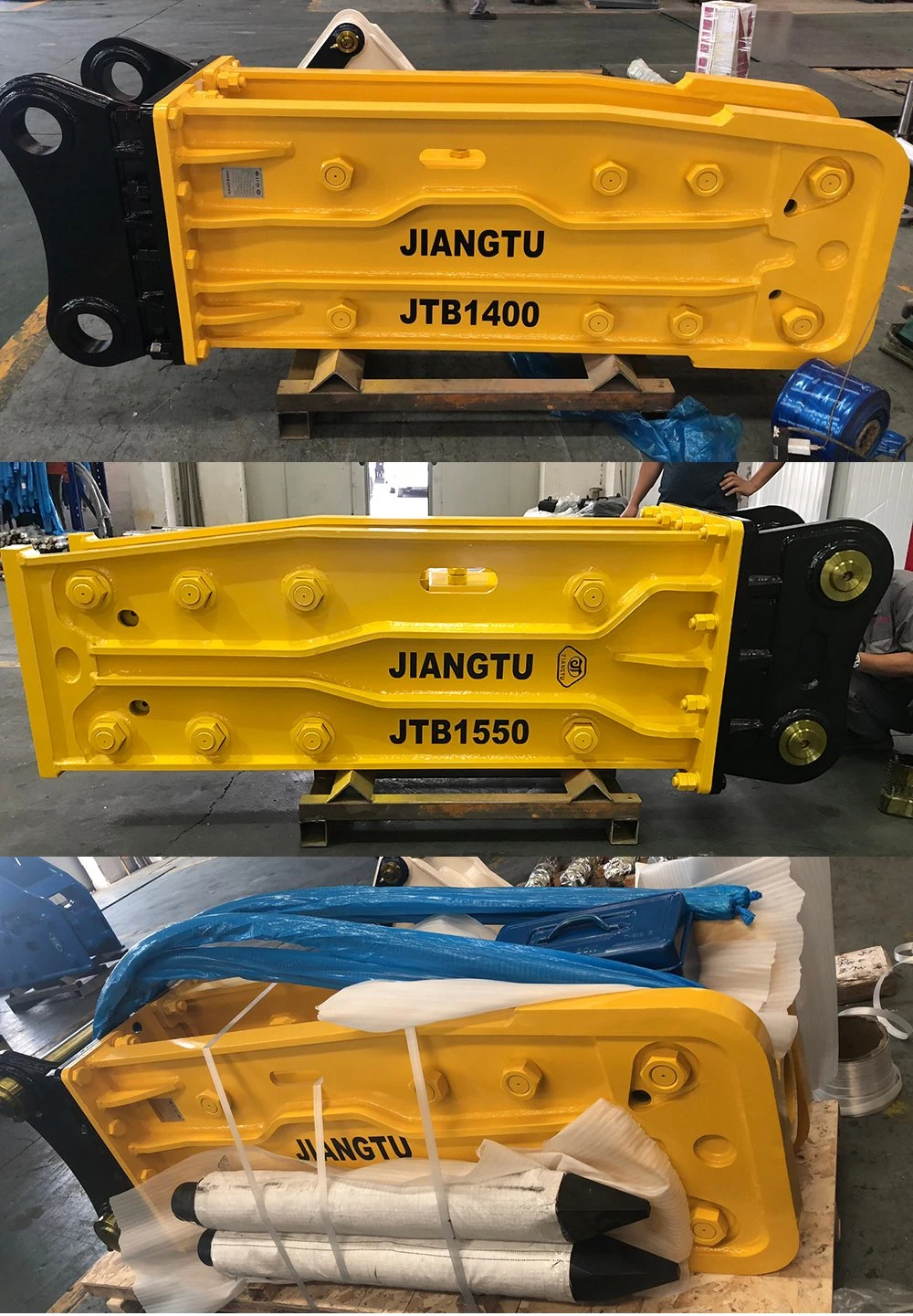 Application:
1.Mining: Mountains, mining, crushing, secondary crushing.
2.Metallurgy, slag cleaning, ladle furnace demolition, demolition equipment foundation body dissatisfied.
3.Railway: tunnel, bridge, mountain down.
4.Highway: highway repair, cement pavement broken, foundation excavation.
5.Municipal gardens: concrete crushing, water,electricity, gas engineering construction, the transformation of the old city.
6.Building: the old building demolition, reinforced concrete broken.
7.The ship hull in mussels.
8.Other: ice breaking, breaking the Vibrating Sand.
Main Features: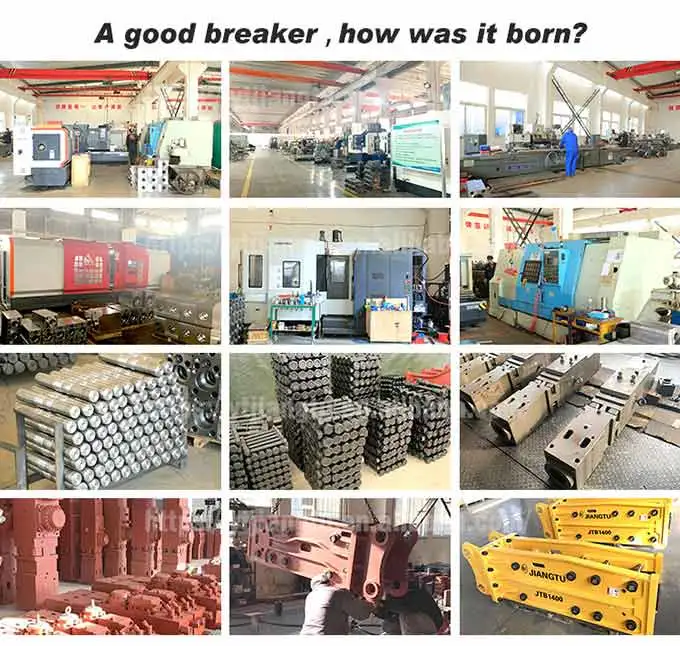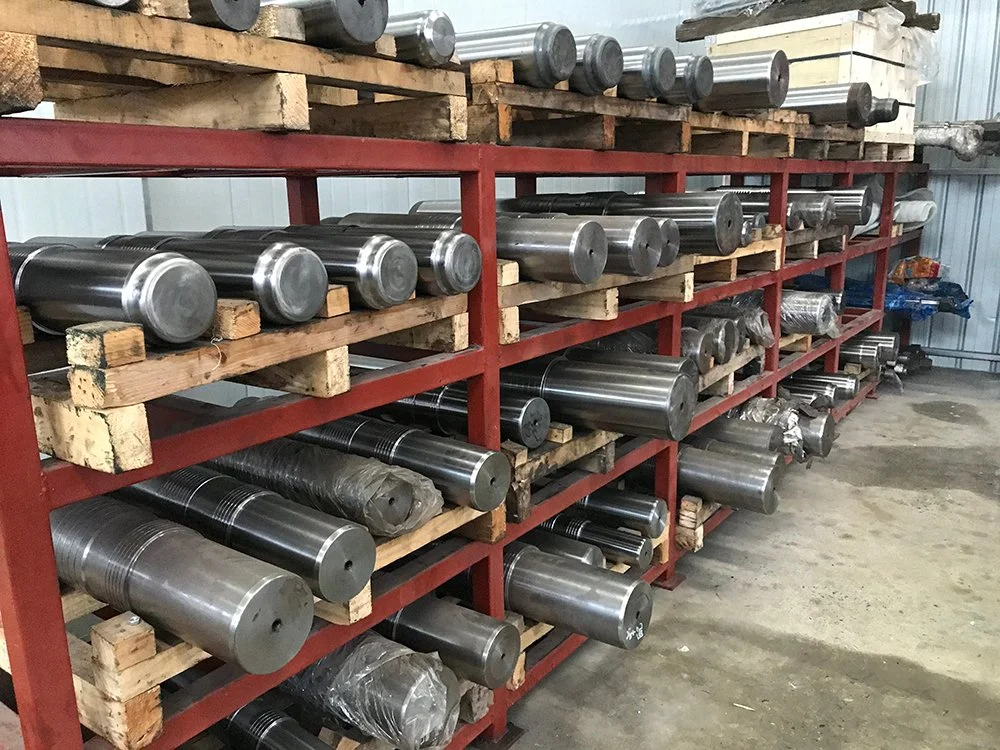 1. Cylinder&valves: prevents wear with precision finishing treatment.
2. Piston: improved running properties; manufactured with high-quality nickel&vanadium alloy steel.
3. Chisel: exceptinal performance and reliability; manufacutred with high-quality alloy steel.
4. Accummulator: reduces irregular pulse pressure on hydraulic circuit; improved striking power with supply of accumulated gas pressure.
5. Oil seal: increase hydraulic circuit design at the sied of under pressure, reduce the pressure of oil seal, improve service life.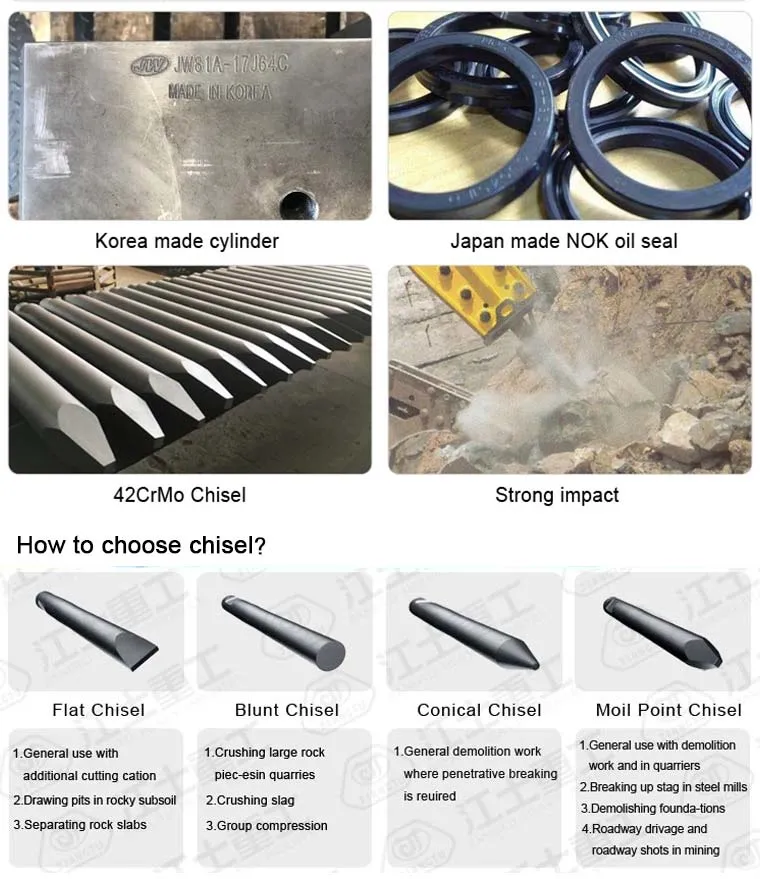 Light Type Hydraulic Breaker

Model No.

Body
weight
(kg)
Working flow rate
(L/min)
Working pressure
Bar)
Imapct rate
(bpm)
Hose diatmeter
(inch)
Chisel diameter
(mm )
Excavator
weight (ton)

JTB400

50

20-40

90-120

700-1200

1/2

40

0.8-2

JTB450

70

20-40

90-120

700-1200

1/2

45

1.2-3

JTB530

90

25-45

90-120

500-1100

1/2

53

2.5-3

JTB680

155

36-60

110-140

500-900

1/2

68

3-7

JTB750

210

50-90

120-170

400-800

1/2

75

6-9

JTB850

280

45-85

127-147

400-800

1/2

85

7-14

JTB1000

480

80-120

150-170

400-650

3/4

100

10-15

Medium Type Hydraulic Breaker

JTB1350

846

130-170

160-185

400-650

1

135

18-25

JTB1400

920

150-190

165-195

400-800

1

140

20-30

JTB1550

1092

150-230

170-200

250-400

1

155

27-36

Heavy Type Hydraulic Breaker

JTB1650

1442

200-260

180-200

250-400

1.1/4

165

30-45

JTB1750

1930

210-280

180-200

250-350

1.1/4

175

40-50

JTB1800

2295

280-350

190-210

230-320

1.1/4

180

45-55

JTB1900

2520

280-350

190-210

230-320

1.1/4

190

50-60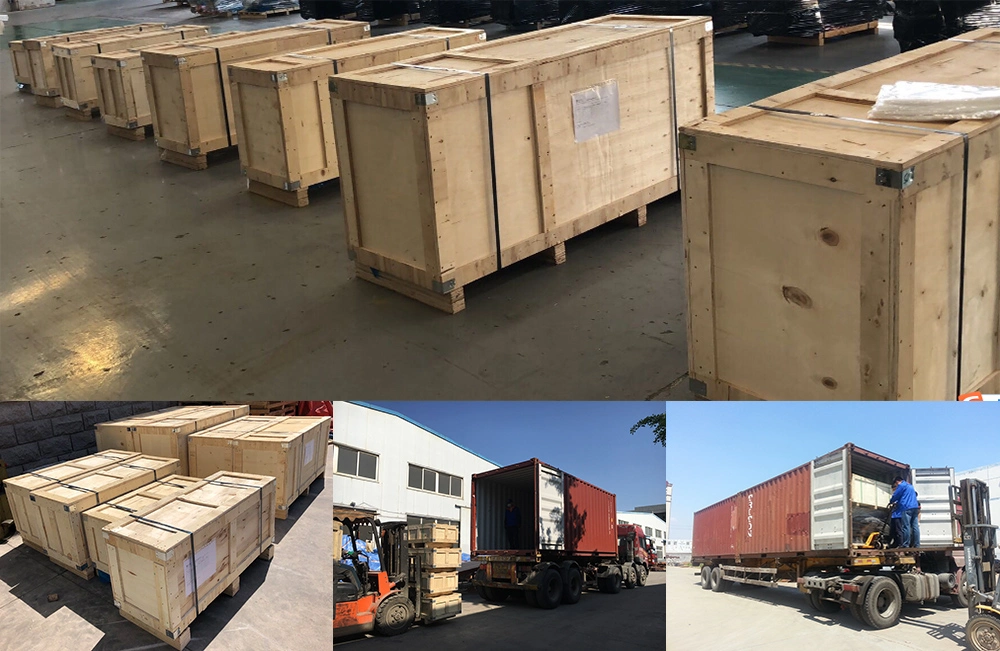 Port: Qingdao,Yantai, Shanghai etc.
Packing Type: Standard export packages.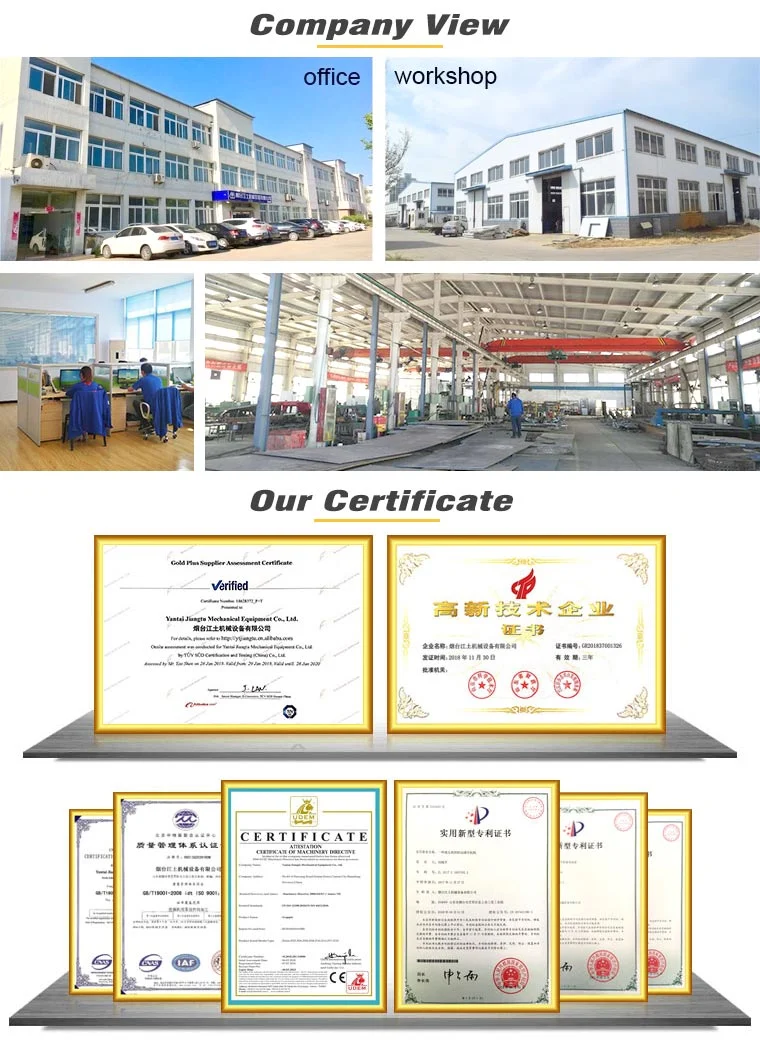 Our Company Information
Yantai Jiangtu Mechanical Equipment Company is a leading manufacturer for excavator attachments in China. All products' quality are strictly under control from processing to delivery. By continuous innovation and improvement, the company has got ISO 9001, CE certifications and technical patents successively. Our products have been sold to widely domestic and oversea customers and long term partnerships have been developed.
Our mission is: Quality first, Service foremost, and Innovation paramount.
Uncompromising commitment to high quality and thoughtful service wins us a good reputation and more coming partners. And we will keep on improving the products to better serve the world market. We are looking forward to working with you!
Why choose us
?
1. As the leading excavator attachments manufacturer in China, we have 10 years experience in developing and manufacturing excavator attachments.
2. Strong R&D department with 6 professional engineers and more than 40 skilled workers.
3.Strict QC system, ISO9001:2008 and CE certificate.
4.24months(JTB400-JTB680)and 12 months(JTB750-JTB1550) warranty after receiving the product
5. The OEM/ODM and customization service is available.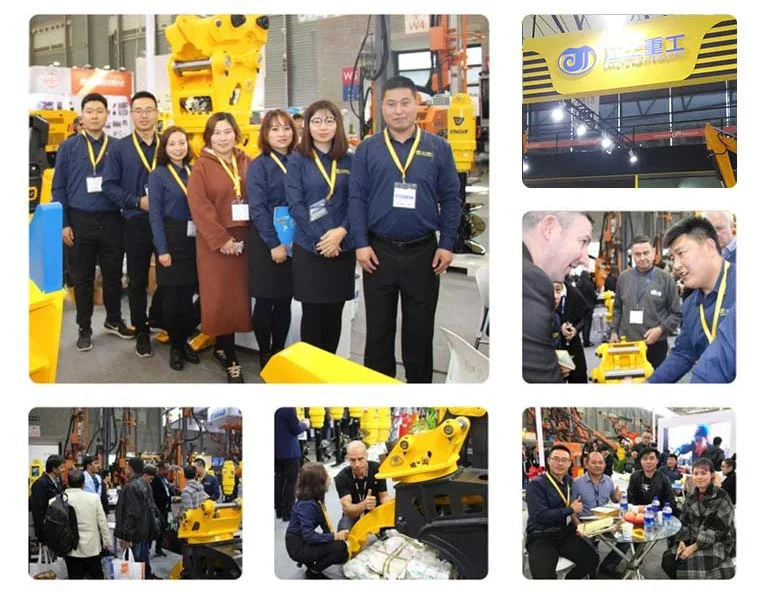 Our Team
Aiming to deliver practical, easy-to-use and durable excavator attachments for global market, our R&D team size keeps growing. Currently, there are 6 professional engineers with an average researching experience of 4 years to meet customization demands. More than 40 skilled technicians have made it possible to guarantee the lead time and delivery date.
Our Service
1. We can offer a comprehensive range of excavator attachments such as hydraulic breaker, quick hitch, log grapples, plate compactor, earth drill auger, orange peel grab, demolition grapple, grab bucket, ripper, etc...
2.You may rest assured that all of our products can be supplied in a wide range of designs, and the product can be customized according to your personalized requirements.Meanwhile, we can offer an excellent after-sale service.
3. We will keep your business information confidential.
4. We promise to reply to you upon receipt of your inquiry within 12 hours .
5.The order will be produced exactly according to your detailed requirements and bucket dimensions.Each of attachment will be tested before delivery. Our QC will submit inspection report before shipment.